Hello everyone! We have come to the end of another exciting week!
This is the 12th addition of the Weekend Wrap-Up, inspired by Melanie at
Christian Bookshelf Review
. This is where I will tell you what I've read in the past week, what I'm currently reading, and what I plan to read in the week ahead. I might also share some interesting events from the past week!
It's been a disappointingly slow reading week for me. I have only finished one book this week! :(
I had to take the pre-licensing class for life insurance this week. It's a 2 1/2 day class that crams in 20 hours of life insurance stuff you need to know to take the state exam. Since I have to get my license for work, it is kind of a big deal. The good news is I passed the class exam, so I'm sitting for the state exam next week! I hope I pass that one too :)
What I Read:
Reviews Posted:
Lone Star Trail
What I'm Currently Reading
: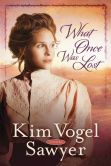 What I Plan on Reading Next
:
That about
wraps it up
folks!