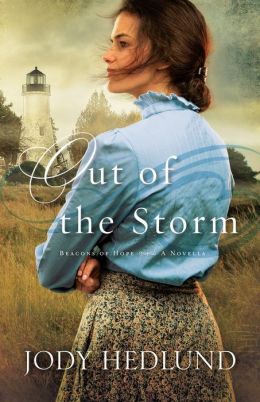 Overview
: Having grown up in a lighthouse, loneliness is all Isabelle Thornton has ever known--and all, she assumes, she ever will know. But when her lightkeeper father rescues a young man from the lake, her sheltered world is turned upside down.
Bestselling author Jody Hedlund's
Out of the Storm
is her first ever novella and introduces readers to Beacons of Hope, a new series set in the 1800s amid the romance, history, and danger surrounding the Great Lakes lighthouses of Michigan.
ISBN-13:
9781441265524
Publisher:
Baker Publishing Group
Publication date:
10/1/2014
Series:
Beacons of Hope
My Review: This novella was such a tease! I read it in less than an hour and loved it. I fell in love with the characters. Isabelle is a kind, caring, innocent young woman. Henry is an incessant flirt, with a good heart. The story is excellently executed, even in the short amount of pages. Even in such a short story, the author provides an excellent message: don't let your circumstances define your life and who you are. Let the Lord of love and mercy guide you and your life will always be full. I can't wait to read the installment, which is a full length novel, in this series.
*Thank you, Bethany House, for providing this copy as a special review opportunity.*
About the Author
: Jody Hedlund is an award-winning and bestselling author of inspirational historical romances.
As a busy mama-writer, she has the wonderful privilege of teaching her crew of 5 children at home. In between grading math papers and giving spelling tests, she occasionally does a load of laundry and washes dishes. When she's not busy being a mama, you can find her in front of her laptop working on another of her page-turning stories.
She loves reading almost as much as she loves writing, especially when it also involves chocolate and coffee.
You can send questions or comments via her
Contact
page, or connect through
Facebook
or
Twitter
.