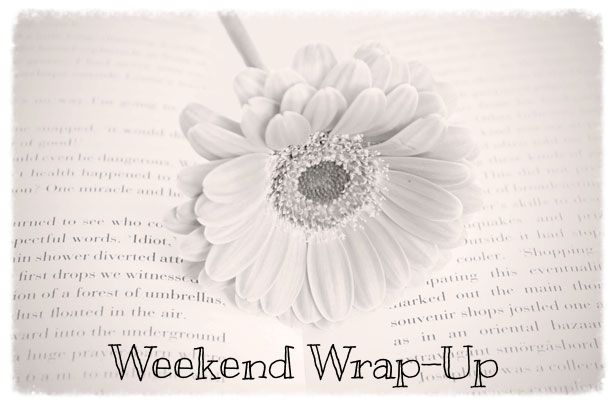 This is the Weekend Wrap-Up, inspired by
Melanie at Christian Bookshelf Review. This is where I will tell you what I've read in the past week, what I'm currently reading, and what I plan to read in the week ahead. I might also share some interesting events from the past week!
Current Giveaway
:
Enter to win one copy of Starflower by June Caedmon!
Giveaway ends January 31
Reviews Posted:
Distant Echoes
Black Sands
A Bride for All Seasons
by
Robin Lee Hatcher
My rating:
5 of 5 stars
I loved this collection of novellas from some of my favorite authors. Each story was short and sweet, full of romance and faith, and very enjoyable. I loved all of the characters! I only wish they were a little longer! Because of the shortness of the stories, some of the romance could feel a little rushed, but I kept in mind the fact that these were novellas, not full fledged novels and it helped keep my perspective.
Overall, it was a very enjoyable collection of short stories!
In This Moment
by
B. Benfield
My rating:
4 of 5 stars
This is a fantastic debut novel! The characters are wonderful. Anyone can easily relate to Brooke, even if you've never lost a husband. The emotions she goes through are real and the depth of character is fantastic. I really wish we could have gotten into Reid's character a little more, because the little bit we got to know about him (from his point of view) makes me want to know more!
The plot is intriguing and had me hooked from the first page. The things Brooke goes through are so real to me, which is probably why I relate to her character so well. The action surrounding Reid's past is exciting and scary. The romance between Brooke and Reid is sweet and exciting and scary (for Brooke) all at the same time. The author does a great job of displaying those emotions.
Overall, this was a quick, easy read that I highly recommend.
**There is some language and a couple "steamy" scenes, so if you don't like those things, don't read this book.**
What I'm Currently Reading
:
(Should be done with this one today)
What I Plan on Reading
:
That about
wraps it up
!