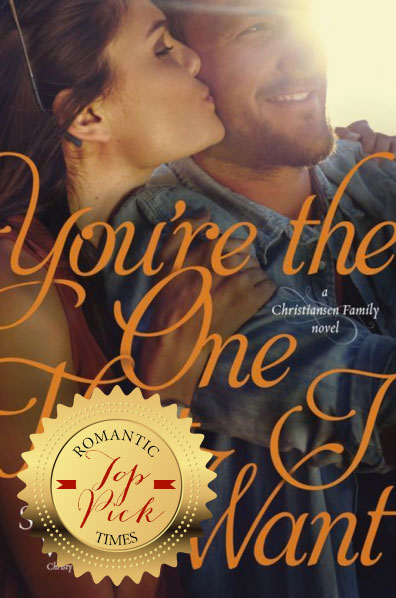 You're the One That I Want

Christiansen Family, Book 6
Tyndale House Publishers, Inc.
2016
ISBN: 9781414378466

Owen Christiansen has been in a downward spiral since an injury ended his NHL career. But a job on an Alaskan crabbing boat offers a fresh start . . . maybe even a shot at romance with Elise "Scotty" McFlynn, the captain's daughter.

Used to being one of the guys, to never relying on anyone, Scotty doesn't believe in happily ever after—especially with someone like Owen. Her instinct is confirmed when Casper Christiansen arrives to drag his prodigal brother home, bringing with him a truckload of family drama—and even worse, the news that Casper is wanted for questioning in connection to a crime back in Minnesota.

But Owen is more than the sum of his mistakes, a truth both he and Scotty discover when she escorts both brothers to Deep Haven as part of her new job on the Anchorage police force. Thrust into an unfamiliar world of family, faith, and fresh starts, Scotty begins to see potential for a happy ending . . . if she's brave enough to embrace it.


My Review
: I don't even know where to begin in reviewing this fantastic book… From start to finish, I was caught hook, line, and sinker. What I like best about Susan May Warren's books are the depth of emotions, love, loyalty, faith and family dynamics that make the characters jump off the page. They seem so real (I secretly want to be a part of the Christiansen clan!).
Oh, Owen! Watching him struggle to accept that grace that God has given him so freely through the book is so hard! I just wanted to hug him. Warren did an amazing job showing us how complicated and messy his life was, giving us glimpses of the "old" and "new" Owen. Then there's Scotty. Boy, she is one complicated woman! But her fierce loyalty to Owen is exactly what's needed to begin an awesome romance.
I'm so glad that Owen's story was last. I don't think Susan May Warren could have ended an amazing series any better (but I really hope this isn't the end!). She brought the prodigal home, restored the family relationships that were broken, and most importantly taught each character about embracing their past, their faith, and putting their trust in God. I loved this series and would highly recommend it to anyone!
Susan May Warren is the USA Today bestselling, Christy and RITA award-winning novelist of over fifty novels. An eight-time Christy award finalist, a three-time RITA Finalist, she's also a multi-winner of the Inspirational Readers Choice award, and the ACFW Carol Award.
A seasoned women's events speaker, she's a popular writing teacher at conferences around the nation and the author of the beginning writer's workbook: The Story Equation.
She is also the founder of www.MyBookTherapy.com, and
Novel.Academy
, a school for aspiring novelists. You can find her online at www.susanmaywarren.com.