OHHH I'm so excited to be finished with school for the summer!! Three weeks off=three weeks of NON-STOP reading!!! :)
I just finished the first book in the
Ladies of Summerhill
series by
Cara Lynn James
. I must say, I'm excited to have all three books in the series so I can read the next one right away!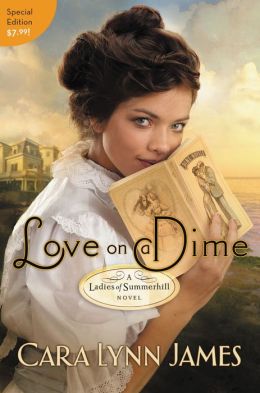 Overview:
In an age of elegance and excess, Lilly Westbrook longs for a love both true and eternal.
Newport, Rhode Island, 1899, is a place of shimmering waves, sleek yachts, and opulent mansions that serve as summer cottages for the rich and famous. Home of railroad magnates and banking tycoons—dashing young men and the women who aspire to marry them.
But it's not the place for lady novelists. Especially not those who pen disreputable dime novels. This poses a problem for Lilly Westbrook, because that's exactly what she does.
No one in Lilly's social set knows she pens fiction under the nom de plume Fannie Cole. Not her family or the wealthy young man about to propose to her. And especially not Jackson Grail, the long-lost beau who just bought her publishing company—and who stirs her heart more than she cares to admit.
But Lilly must put aside her feelings and follow the path that will maintain her family's social stature and provide the financial security everyone is depending on.
Now Lilly faces a double dilemma. Can she continue to protect her secret identity? And will she have the courage to choose the man who will risk it all just to win her heart?
My Review: The characters in this book were fascinating. Lilly Westbrook is shy, reserved, and not at all like her socialite mother or other girls her age. She would rather be in the privacy of her home with her family and friends than at some grand party or ball. I found her character interesting because she mirrored me in a lot of ways. Now, I'm no novelist I assure you, but I would rather sit at home with a good book or surrounded by family and good friends than go out on the town every night. Lilly also had a problem of trying to do everything on her own, shouldering her responsibility and everyone else's. Throughout the book, I could feel the tension building within her, and was waiting for her to snap.
Jackson Grail, or Jack as Lilly calls him, rose from a humble being to a very rich man. And that's just what he set out to do. So, why isn't he content? He is almost power-hungry in the beginning of the story, so strong is his desire to do well for himself. By the end of the story, however, we see a shift in his attitude and demeanor. A good shift. Jack is a likable character and his love for Lilly is evident, even if he doesn't know the best ways to express it sometimes.
There are two lessons running throughout this book that I feel are important to both characters.
"Trust in God to help you find your way"
Lilly is trying her best to learn this. She just wants to follow the Lord's will for her life, and it's enlightening to read about her growth of faith. "Proverbs 11:28.
'He that
trusteth
in his riches shall fall; but the righteous shall flourish as a branch.'
Value the Lord, not your
earthly
possessions" Jack has gone his whole life trying to prove to himself and to Lilly's family that he can be successful and that he's good enough for their daughter, and it was humbling to watch his growth from relying on his wealth and status to relying on the Lord, come what may.
The author did a great job weaving the themes into the story without detracting from it. The character development is fantastic. The plot was exciting and kept me turning the pages. Overall, I give this book 5 stars. I will definitely be reading more by this author! Go check it out today!
*You can find out more about the author by clicking on her name above. You can get more information on the book by clicking on the "From Barnes and Noble:" text above.
Up Next: Love on Assignment by Cara Lynn James, Book 2 of the Ladies of Summerhill series.